MEDICAL SCALES

From traditional balance beam scales to state-of-the-art electronic beam scales with auto-ranging and auto-zeroing functionality, we carry the medical scale that's right for you!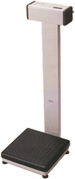 The Seca beam scale at left is one of our best-selling medical models. It comes with or without wheels, in either pounds (400 lb x 1/4 lb) or kilos (160kg x .2 kg), and has a rod height of 36"-78" (92cm-198cm). It features slip-resistant pop-off base covers, easy-to-read traditional slide controls, and an over/under balance detector.
The Seca digital scale at right weighs in either pounds or kilos. It has auto-zero functionality and a capacity of 440 lbs with 1/10-lb accuracy.
Contact us for more information about these and other products.
---